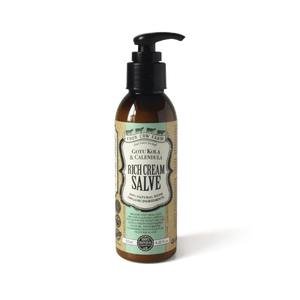 Organic Gotu Kola and Organic Calendula Petals Infused in the Finest Organic Extra Virgin Cold Pressed Olive Oil, with Organic Chamomile Recutita & Pure Olive Squalane.
Gotu Kola and Calendula have been known for centuries to protect and strengthen fragile skin affected by inflammation and irritation. These rich herbs, infused by hand in the finest Extra Virgin Cold-Pressed Olive Oil, are complemented by Chamomile Recutita's powerful emollient and safeguarding properties, making an excellent remedy for dry, delicate or irritated skin. Pure Olive Squalane and Natural Vitamin E (Non-GMO) contain rich added skin-nourishing benefits which enhance the retention of moisture in the skin, and restore suppleness and elasticity.
Purpose:
Excellent as a rich and soothing daily face and body salve for dry, sensitive or delicate skin, or for soothing inflamed or irritated skin affected by sunburn, eczema, hives or contact dermatitis.
Directions:
Apply gently after bathing and cleansing, and reapply regularly for greater protection and moisture.
Ingredients:
Aqua, organic centella asiatica (gotu kola) infused in organic extra virgin olea europaea (olive) oil, organic calendula offincinalis (calendula) petals infused in organic extra virgin olea europaea (olive) oil, organic vegetable glycerin, cetearyl olivate, sorbitan olivate (olive emulsifiers), organic calendula officinalis (calendula) extract, organic chamomilla recutita (chamomile) extract, cetearyl alcohol, olive squalane, parfum(plant derived natural preservative not to be confused with perfume), d-alpha tocopherol (natural vitamin E non GMO), potassium sorbate, organic rosemarinus officinalis (rosemary) CO2 extract in organic helianthus annuus (sunflower) oil.
All oils used by Four Cow Farm are premium extra-virgin cold-pressed quality.